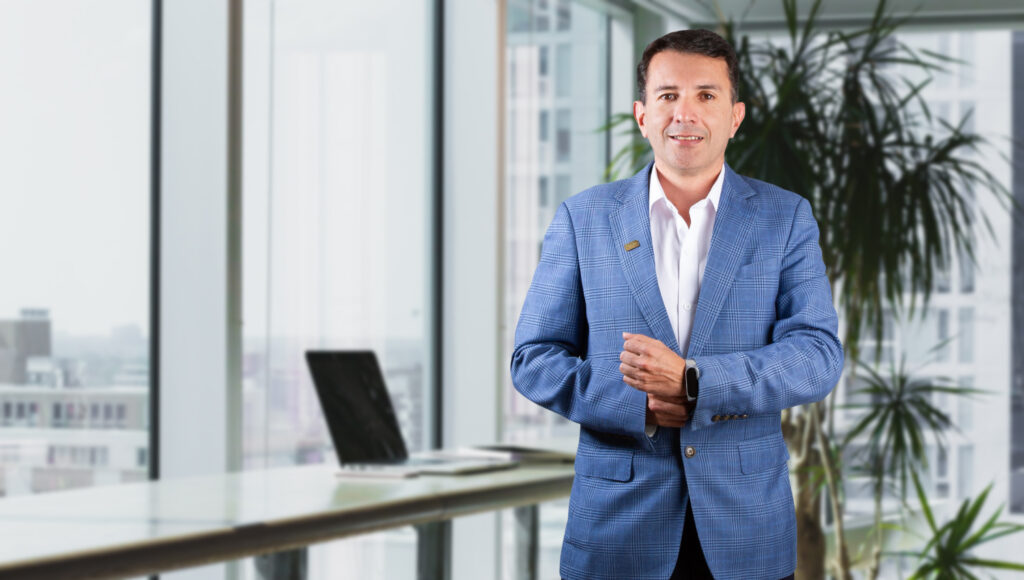 Javier Valdiviezo – Coordinator of the Academic and Training Area, CEDIA.
The education of the 21st century is based on cooperation and collaboration for the construction of new knowledge. Thanks to the advancement of technology, connectivity and access to information make activist and connectivist learning possible. Learning goes beyond the limits of the classroom environment and generates interaction with different environments, including social spheres, where students and teachers interact.  
Education becomes a present challenge in the day to day of our experiential environment; an environment where educational systems, at different levels —primary, secondary and higher— have the need to update not only the contents, but also the methodologies of their educational programs to adapt to the new realities of the environment.  
 We live in times of rapid change where institutions are challenged to break some paradigms, already obsolete, and focus on developing skills that are adapted to the new generations of students. 
Education needs to stop being a production process —with static meshes, based on the memorization and mechanization of knowledge and standardized evaluations—, to become a dynamic and innovative educational program. It is necessary for teachers to unlearn in order to relearn and create a new education that responds to the high and changing demands of the 21st century.   
In recent decades, technology provides various opportunities to promote education and science. In the cloud there are more comprehensive educational platforms for education functionalities; however, the use of technology must be what it is: support for the pedagogical model of each institution. Thus, it will reduce generational gaps in the way of teaching and learning. This is not the only challenge; The conditions are not similar for everyone in terms of resources and access to connectivity for institutions, teachers, and students.   
It is necessary to imagine the possibility of a better future, with greater social equality, with equitable conditions in resources for learning and in access to information. In her research, the Mexican Frida Diaz concludes that: "Access to information, even so, is free and equitable - it is not synonymous or guarantees the incorporation of knowledge, just as the reception of information does not guarantee learning." These challenges and objectives can be achieved based on quality education.
Active learning and the role that analytics provides to support teachers and students in their Teaching-Learning processes. 
First, learning analytics is the measurement, collection, analysis, and reporting of data about learners and their contexts, in order to understand and optimize learning and the environments in which it occurs. produces.  
Under this definition, analytics in the education sector is very important, since it allows us to start making decisions, inside and outside the classroom, based on the results obtained from the data. That is, we can understand and describe what has happened, diagnose why it has happened, predict what will happen, and prescribe what we should do. In this way we can base our decisions, about processes, learning routes and curricular trajectories, on information stored in different data sources.   
How CEDIA Implements It: 
CEDIA carries out several projects where teaching-learning and academic analytics have been included, which allow different actors in educational institutions (eg students, teachers, authorities) to benefit from the data. For example, the development of the ELSA project (E-Learning System and Analytics) has currently been completed. This project is a response that was raised after carrying out the diagnosis on the technological, communicative and pedagogical competences of teachers from different CEDIA member institutions.   
Through ELSA, teachers and students are able to have a more complete vision of their teaching-learning process. This system is based on research carried out on the self-regulation of learning, flipped learning and the incorporation of analytics to monitor the teaching-learning processes.   
Currently, within the platform, the data allows us to understand how the learning processes have taken place in the institutions with a support chat boot and monitoring of the indicators. In a second phase, the educational experiences will be personalized.   
What benefits can the educational ecosystem obtain by incorporating analytics tools: 
The benefits are for all involved (stakeholders) and go hand in hand with the level of maturity that educational institutions have to adopt a culture of learning analytics.  
For example, in the current context of pandemic and post-pandemic, institutions have tools for tracking, monitoring, and predicting student dropout; This translated into an escalation of the teachers' strengths. They went from monitoring 20 or 30 students in person to monitoring 50 students on average (virtual), obtaining timely and personalized feedback.   
This is an example of what can be achieved by incorporating these tools into educational processes. However, there are other tools that support the work —at the level of career directors— through academic counseling systems; they show the curricular trajectories of the students and with this base it is possible to build educational policies according to the evidence of the data and not only by perceptions.