Introduction  
When thinking about plastics, images of untreated waste, polluted oceans, and affected ecosystems automatically come to mind. The question is is all this an exaggeration?  
Sadly the reality is worse than we think. Plastic pollution represents 85% of ocean pollution. It is estimated that by 2040, the volume of plastics that will flow into the seas will triple, reaching 50kg of plastics per meter of coastline worldwide.
The problem with plastic waste is the difficulty in degrading it. It is necessary to understand that each plastic product that we use will be present in our ecosystem for a long time. In fact, more than half of the plastics found floating in the oceans are from the 1990s or even prior to this.   
It is estimated that from the beginning of the plastics era to 2015, 6.3 billion tons of plastic waste have been produced, of which 9% has been recycled, 12% incinerated and 79% has accumulated in landfills or in the environment. In this way, an unsustainable type of consumption with great problems for waste management is reflected. For example, for the plastic packaging sector, 98% of finite resources are used and only 5% of the total produced is recycled. This type of finite consumption without reuse is similar to aircraft fuel consumption.   
The effects of plastic pollution increase every year, with the damage and the number of people affected becoming more and more palpable. Of these, the ones of greatest concern are the degradation of the natural ecosystem, the emission of greenhouse gases (during production and incineration) and unfortunately the harmful effects on health (micro and nano plastics).  
Faced with this problem, CEDIA, as a multiple helix articulating entity, presents the following compilation of surveillance:
Commercial and competitive surveillance
Context
The current data on plastic pollution is alarming (PARKER, 2019):
Half of the plastics in existence today have been manufactured in the last 15 years.
Plastics production increased exponentially from 2.3 million tons in 1950 to 448 million tons in 2015.
About 8 million tons of plastic escape into the ocean. Which is equivalent to 5 bags of garbage for every 30 centimeters of beach around the world.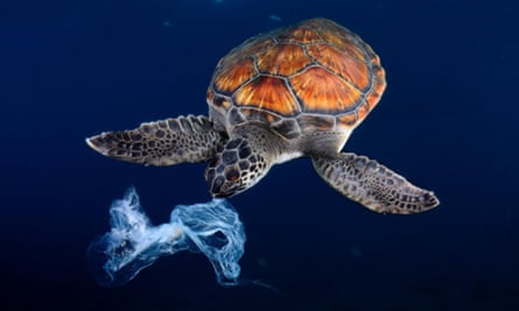 Sea turtle trying to eat a plastic bag by mistaking it for a jellyfish (Ellenby, 2019).
What is the perspective of Ecuador?
Ecuador is no stranger to plastic pollution, its effects being even more considerable given its status as a mega diverse country. In 2019, in Ecuador, 528 thousand tons of plastic waste were generated, which is equivalent to 11% of the total solid waste in that year (López-Aguirre et al., 2020). It is estimated that around 79% of plastic waste ended up in landfills or in the environment (Ecuaterra, 2022).  
The current data on the use and waste of plastic products are just as alarming in Ecuador (López-Aguirre et al., 2020):
500 million plastic bags are made in Ecuador each year (only half are recycled or reused)
Only 18% of the plastic collected on Isabela Island comes from Ecuador – most of it comes from China or Peru.
The average Ecuadorian used 253 plastic bags in 2020.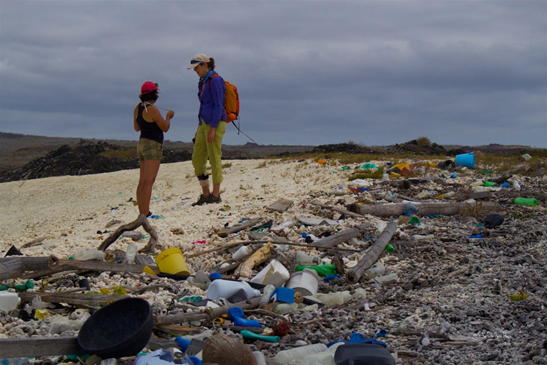 Plastic pollution in the Galapagos (Michelle, 2021).
Segmentation of technological trends
The Surveillance process carried out by CEDIA involves the generation of value products, seeking to provide concise and quick information on the environment. That is why, for the purposes of this report, the field of innovation in plastics has been segmented into three major development trends.
Pre-consumer technologies: Bioplastics and biodegradable plastics.
Post consumer technologies.
Biocomposites.
Pre-Consumer Technologies: Bioplastics and Biodegradable Plastics
They seek to reduce, redesign or replace the raw material with which plastic products are manufactured. The following development trends are included in this category:
Bioplastics: Plastics of organic origin, which can be naturally biodegradable, designed to be biodegradable and non-biodegradable. Examples of these developments are: Cellulose acetate, PLA or Bio-PET.
Biodegradable and Compostable Plastics: Plastics of non-organic origin (usually of fossil origin) designed to be naturally biodegradable or through some external process. Examples of these are the PBAT, PCL. (RameshKumar et al., 2020).
Post Consumer Technologies
They focus on identifying, evaluating, preventing and mitigating the problem of plastic pollution after the products have completed their use stage.
Recycling: Activity that seeks to partially or totally reuse the raw material of plastic products.
Waste management and plastic pollution: Technological developments for the collection, classification, incineration or degradation of plastic waste.
Identification, evaluation, prevention and treatment of micro plastics: Developments that focus on identifying, evaluating, preventing and mitigating contamination by micro plastics. (Schmaltz, 2020)
Biocomposites
Raw material compounds that combine polymeric matrices with materials of organic origin. This trend is incorporated given the high number of research and technological development in the national territory. Example: wood-plastic composite, natural fiber reinforced plastics or construction materials with plastic components.
References
Alarcón, I. (2022, July 4). More than 250 plastic bags are used by each Ecuadorian per year. YOUTOPIA . https://youtopiaecuador.com/cuidado-del-ambiente/dia-bolsas-plasticas-ecuatorianos-ambiente/
Bhattacharya, D., & Bepari, B. (2014). Feasibility study of recycled polypropylene through multi response optimization of injection molding parameters using gray relational analysis. Procedia Engineering , 97 , 186–196.
biophase. (2022). Home—Biophase . https://biofase.com.mx/
Diaz-Basantes, MF, Nacimba-Aguirre, D., Conesa, JA, & Fullana, A. (2022). Presence of microplastics in commercial canned tuna. Food Chemistry , 385 , 132721.
Equaterra. (2022, April 22). In Ecuador, more than half a million tons of plastic is thrown away each year . www.ecuavisa.com. https://www.ecuavisa.com/noticias/medio-ambiente/en-ecuador-se-arroja-mas-de-medio-millon-de-toneladas-de-plastico-cada-ano-BA1640892
Ellenby, D. (2019, August 4). The five: Species affected by plastic pollution. The Guardian . https://www.theguardian.com/environment/2019/aug/04/five-species-affected-by-plastic-pollution
EREMA Engineering Recycling Machinery and Anlagen. (2023). INTAREMA T/TE . https://www.erema.com/en/intarema_t_te/
Franhofer. (2020, September 2). Press release 2020/06: Polymer fiber-coating makes natural-fiber-reinforced plastics more resilient – ​​Fraunhofer WKI . Fraunhofer Institute for Wood Research Wilhelm-Klauditz-Institut WKI. https://www.wki.fraunhofer.de/en/press-media/2020/PI_2020-06_polymer-fiber-coating-makes-natural-fiber-reinforced-plastics-more-resilient.html
Geyer, R., Jambeck, JR, & Law, KL (2017). Production, use, and fate of all plastics ever made. Sci Adv 3: E1700782 . Science Advances.
Gould, R. (2022, March 31). Rethinking the future of plastics . ISO. https://www.iso.org/cms/render/live/en/sites/isoorg/contents/news/2022/03/rethinking-the-future-of-plastic.color-C12.html
Horejs, C. (2020). Solutions to plastic pollution. Nature Reviews Materials , 5 (9), Art. 9. https://doi.org/10.1038/s41578-020-00237-0
Kaur, G., Uisan, K., Ong, KL, & Lin, CSK (2018). Recent trends in green and sustainable chemistry & waste valorisation: Rethinking plastics in a circular economy. Current opinion in green and sustainable chemistry , 9 , 30–39.
López-Aguirre, JF, Pomaquero-Yuquilema, JC, & López-Salazar, JL (2020). Analysis of environmental contamination by plastics in the city of Riobamba. Knowledge Pole , 5 (12), 725–742.
Michelle, C. (2021, June 15). Galapagos: 36 species are at risk from plastic contamination . Environmental news. https://es.mongabay.com/2021/06/galapagos-species-risk-contamination-plastics/
United Nations. (2021, October 21). Plastic, which has already choked our oceans, will eventually suffocate us all if we don't act quickly | UN News . https://news.un.org/es/story/2021/10/1498752
PARKER, L. (2019, July 6). Plastic pollution facts and information . Environment. https://www.nationalgeographic.com/environment/article/plastic-pollution
RameshKumar, S., Shaiju, P., O'Connor, KE, & others. (2020). Bio-based and biodegradable polymers-State-of-the-art, challenges and emerging trends. Current Opinion in Green and Sustainable Chemistry , 21 , 75–81.
Scalenghe, R. (2018). Resource or waste? A perspective of plastics degradation in soil with a focus on end-of-life options. Heliyon , 4 (12), e00941.
Schmaltz, E., Melvin, EC, Diana, Z., Gunady, EF, Rittschof, D., Somarelli, JA, Virdin, J., & Dunphy-Daly, MM (2020). Plastic pollution solutions: Emerging technologies to prevent and collect marine plastic pollution. Environment International , 144 , 106067. https://doi.org/10.1016/j.envint.2020.106067
ScienceMuseum. (2023, February 22). The Age of Plastic: From Parkesine to pollution . ScienceMuseum. https://www.sciencemuseum.org.uk/objects-and-stories/chemistry/age-plastic-parkesine-pollution
Talbot, R., Cárdenas-Calle, M., Mair, JM, López, F., Cárdenas, G., Pernía, B., Hartl, MG, & Uyaguari, M. (2022). Macroplastics and Microplastics in Intertidal Sediment of Vinces and Los Tintos Rivers, Guayas Province, Ecuador. Microplastics , 1 (4), 651–668.
Williams, AT, & Rangel-Buitrago, N. (2022). The past, present, and future of plastic pollution. Marine Pollution Bulletin , 176 , 113429. https://doi.org/10.1016/j.marpolbul.2022.113429